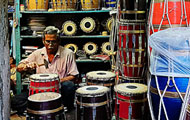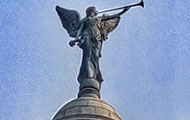 The melting pot of cultures that Calcutta is , it celebrates all festivals- be it Durga Puja, Eid, Christmas or Diwali with equal gaiety and fervour. Not to forget the many more of the minorities who have made Calcutta their home..be it the Parsi Navroz, Chinese New Year or Punjabi Gurpurab.
But nothing beats the gaiety of the Big Fat Bengali Festival – Durga Puja , which now finds a place of pride on the world map. Its that time when the city is decked up no less than a bride and everyone awaits Maa's home coming. Durga Puja in Calcutta has always been a larger than life affair – the pandals just get bigger every year, the idols more grand and the crowd more energetic.
But in the midst of all this fervour, one cannot miss the star attraction – the traditional pujas that are still carried on in full glory in many zamindari baris which dot the lanes and bylanes of Calcutta.
These are pujas hosted by the city's old aristocratic and zamindar families in their ancestral mansions. Both grand and intimate, these pujas draw thousands of visitors every year. To get a sense of the place Bengali businessmen occupied in the city's history,join us for the Bonedi Bari Parikrama 2019.