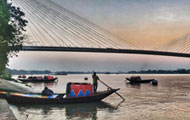 Evening – the magical part of the day when the sun plays hide and seek with the waters creating a multitude of hues from Nature's palette. Enjoy the evening breeze , watch a lone dinghy tossing on the waves , fishermen winding up their day's haul , and all this while having delicious snacks and nursing a hot cup of tea. We set sail from MilleniumPark , enjoy the sights and sounds of the river and on the way back bid adieu to the day while watching the lighted Howrah Bridge in the background.
Availability: Throughout the year. Start times 4 p.m. till 7 p.m.
Duration: 3 hours approximately
Meeting point : : Millenium Park Ferry Ghat See map
Tour price: The prices will be e mailed to you as soon as we receive your inquiry.
Inclusions: Water, evening snacks and all entries.